K. Lindsay Hunter
Thanks to everyone that participated, and those that voted for me! And, of COURSE, big CONGRATS to Jeff, the Amazing Batman! You can continue to ask me questions @Paleo_Bonegirl on Twitter! :-)
Favourite Thing: Getting to work with people (even though they're usually already dead). I also love exploring–especially in caves, and I have a tendency to wander off (so some of that is by accident). I can't get enough of the behind-the-scenes stuff you find at the world's natural history museums, and have studied famous fossils like the original Neanderthal! I'm excited for new challenges like working with vervet monkeys, baboons, and bushbabies!
My CV
Education:
University of MO-St. Louis, BA in Holocaust History, 1997-2001; Salt Institute for Documentary Field Studies, Certificate in Literary Non-Fiction Writing, 1999; University of Iowa, MA, Paleoanthropology, 2002-2004; University of Iowa, PhD candidate–All But Dissertation (ABD), Paleoanthropology, 2004-2011
Qualifications:
Paleoanthropology (Human evolution), Osteology (Bones), Fossil Human Ancestors (especially Neandertals), Human Anatomy, Anthropology, Archaeology, Evolution, Human-Wildlife Conflict, Primates, Conservation
Work History:
Road's End Farm, University of Iowa, City Circle Acting Company, Freelance Writing & Editing, Moore Archeological Associates, Bonobo Conservation Initiative (volunteer), Sepela Field Programs
Current Job:
Research Associate studying human-wildlife conflict in South Africa
Employer:
Sepela Field Programs
Me and my work
As a biological anthropologist, I study human bones and fossils to learn more about our past. I also look for new ways to keep monkeys and farmers from hurting one another. It's like a cross between "Bones" and Jane Goodall!
As a member of Rising Star Expedition, I'm one of six "underground astronauts" to slither down a tiny rock opening in a dangerous African cave in order to carefully dig up ancient fossils belonging to a newly discovered human ancestor! Once in the Rising Star fossil chamber, we used an Artec white light strobe laser scanner to scan the cave floor as we excavated (If you saw the movie, "Prometheus," the "pups" are very similar, except our scanner doesn't fly. Yet.).  Normally, this process can take a long time as you have to take careful depth measurements and map the position of bones or artifacts by hand. Archaeologists do this because the act of excavation also destroys a physical site. Our detailed measurements and maps allow us to recreate the site so that we can give context to the items we remove. A bone or an artifact without this context (or information on its position, depth, origin, etc.) is not as useful to science. Our 3D laser scans allow us to recreate the site in greater detail than ever before, such that we can even "re-dig" the site digitally from any angle! Added to these scans are detailed notes and forensic camera photos that have microscopic resolution so that no information is left behind!
For my PhD research, I studied the shape of individual ribs using a 3D  contact digitizer called a MicroScribe G2. This allowed me to make digital wireframe (fancy looking connect the dots) models of each rib that I could then compare to others. By using a Procrustes analysis (named after a mythological giant that stretched or cut up people to fit his bed), I torture the data until it removes all other information but pure shape. This can be a useful way to compare things when you have reason to believe that some observed differences are really a result of size.
At Sepela Field Programs (http://www.sepela.org/?page_id=484), I am currently working on devising ways for humans and wildlife (particularly non-human primates) to live together peacefully without trouble. I'm a nosey person by nature, so being able to speak with lots of different people and spy on animals is right up my alley! Best of all, if this is something that interests you, you can apply to our field courses, and try this kind of applied science on for size!
My Typical Day
Caves, museums, corn fields, human cadaver labs, sand pits: There's NO "typical" day for me, which is one of the things I love best about what I do!
Biological anthropology suits me perfectly because there are so very many ways that you can approach your research. I have attention deficit hyperactivity disorder (ADHD), which means that I can sometimes get lost in my thoughts or find it hard to focus, and get sidetracked easily (SQUIRREL!!!). Also, when I get really excited about something, I can get very emotional (sometimes even when I'm really happy, I'll start crying for no reason–I did this when we saw the first 3D scans of the cave floor in Rising Star Expedition, and I was SO embarrassed), or I'll get really wound up and start bouncing off the walls. This doesn't really sound like your typical image of a scientist, but I'm making it work for me.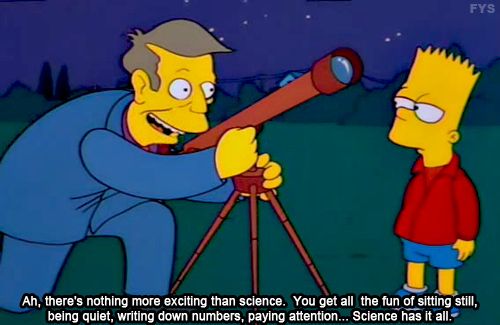 My research has brought me to five continents, and lots of exciting different countries! I've worked on the following collections of bones and fossils: UI-Stanford Collection (Office of the State Archaeologist, Iowa City), Point Hope Collection (American Museum of Natural History, NYC), Shanidar 3 and Haman-Todd Collection (National Museum of Natural History, DC), Kebara, Qafzeh, Skhul fossils (Tel Aviv University, Israel), Raymond Dart Collection (University of the Witwatersrand, Johannesburg, South Africa), Sterkfontein Australopithecus africanus fossils (Transvaal Museum, Pretoria, South Africa), Krapina Neandertal fossils (Zagreb, Croatia), Dolni Vestonice (Dolni Vestonice, Czech Republic), Neandertal and Oberkassell fossils (Rheinisches Landesmuseum, Bonn, Germany), La Ferrassie Neandertal fossils (Musee de l'Homme, Paris, France), Tabun Neandertal fossils (Natural History Museum, London, UK), Atacamenos (San Pedro de Atacama, Chile), Tierra del Fuegan and Aonikenk (Punta Arenas, Chile), Great and Lesser Apes (Field Museum, Chicago, IL).
I've gotten to see behind-the-scenes of some of the world's most awesome museums, which felt like being in the movie "Night at the Museum" (I was even researching at the American Museum of Natural History while they were filming "Night at the Museum 2"!)! I been able to excavate Native American artifacts so that they wouldn't be destroyed when roads were built, excavated ancient fossils in a dangerous cave, and even been on TV (Rising Star Expedition is the subject of a documentary that will be airing soon on the Nat Geo Channel)!
But it's not all fun and games: When I have to do quiet, focused work, like excavating or measuring bones, I can tend to space out. So, a trick I've found is to narrate what I'm doing in my head, just like I was in a documentary. It might sound a bit crazy (and I'm glad no one can hear what I'm thinking), but it keeps me on track. A funny thing that it also does, is keep me attuned to particularly interesting or engaging moments that I can share when I speak to classrooms. I also have a habit of keeping about a million tabs open on my browser and multiple documents, so this allows me to move back and forth between projects.
What I'd do with the money
Create interactive activities for exploring and celebrating our African roots using fossil casts, wildlife fun, and cross-cultural exchange that allows American kids to Skype African kids! If I have enough money for a video camera & editing software, I want to start a YouTube channel for the project to share with the WORLD!
In order to make the most of our scientific discoveries and to keep pushing the boundaries of our knowledge, we need a free-flow of information (open access, open science, open data), and we need to build friendships and connections for sharing experiences.
I live in South Africa where there is a history of intolerance for people of different cultures or what some might call "races." We have a lot of these same problems in the US, especially where I grew up in St. Louis (near Ferguson), MO. When people feel alone or different, sometimes they band together into groups and try to exclude others. When groups of these scared people disagree, they can often react violently. But, like Gandhi once said, "An eye for an eye only ends up making the whole world blind." When we are caught up in violence, we stop using our brains, and stop sharing, and science can come to a halt.
So, like Martin Luther King, Jr., I have a dream. I know the future of science is brightest when it performed by people of every color, gender, sexual orientation, and difference that you can think of, all working side by side. One way to achieve this is by focusing on our evolutionary similarities, not just among living people, but those past and even the animals around us. By creating an awareness of these connections, I hope to create empathy and to show that "no one is alone" (If you haven't seen the musical, "Into the Woods," you really should!), and we're ALL Africans!
Wow. That's a tall order, but I think we can do this! By working with South African organizations such as the Evolutionary Studies Institute (http://www.wits.ac.za/academic/research/17918/home.html) and American ones like Sepela Field Programs, I have a goal of creating curricula that teach African students about the evolutionary history and future of the rich land they live in so that they can then act as student ambassadors and share what they've learned on a YouTube channel with kids (and adults!) all over the world!
My Interview
How would you describe yourself in 3 words?
Sparkly. Curious. Unable to follow directions. ;-)
Who is your favourite singer or band?
Modest Mouse (I *just* got to see them perform live at the Parklife Festival in Jo'burg on May 3!), Elliott Smith, Cake, Happy Fangs, Regina Spektor, Kate Nash (I saw her in concert and she had a CLOUD over her electric piano!), Lily Allen, Amy Winehouse, Fiona Apple, and Maya Solovey are some of my favorites. I adore musicals, especially rock operas like "Jesus Christ Superstar" and "The Who's Tommy." I even really love the soundtrack to "Dexter" and "Game of Thrones"!
What's your favourite food?
Avocado!!! When I was doing research in Chile, they eat a lot of "pan y palta" (avocado sandwiches), and I must've eaten at least two avocadoes everyday for a month! I'm still surprised I never turned green.
What is the most fun thing you've done?
I could never choose just one thing…but a lot of the most fun things have involved animals, particularly horses. I've been pony-trekking in Iceland, took dressage lessons in French in Germany, spent 6 days riding around County Sligo (William Butler Yeats country) in Ireland, rode through a banana plantation on Maui, jumped horses inside a tiny warehouse in Manhattan, cantered around Central Park, rode around the Sea of Galilee, and have ridden on the veldt in South Africa. I love the feeling of communing with another life and the sensation of flying that comes from sailing over jumps. I've been an ardent horse person since I was young and was a member of Mounted Girlscout Troop 2571 (Gateway Trails Association) in Hillsboro, MO. My parents are animal people, too, and now own a small horse farm outside Lexington, KY, where our family's five horses, six dogs, and two cats live.
What did you want to be after you left school?
EVERYTHING. I first wanted to live in England, study Shakespeare, and support myself by giving street performances and tours in Stratford-upon-Avon (I'm not even joking). But for a high school project, I had to shadow someone in my chosen career field, and I didn't know any crazy actor street people, so I went to my fallback. I also was very interested in museum studies, so I could learn to make dioramas and create exhibits. I even got to design an exhibit on the paleocultures of Iowa for the Biosphere Discovery Hub at the University of Iowa Museum of Natural History (http://www.uiowa.edu/mnh/index.html)!
Were you ever in trouble at school?
In the eighth grade I got in trouble for writing a kind of slambook of haiku poetry about all the kids in the grade. It wasn't very nice, and I wouldn't condone comparing another student's head to "a flaming schnauzer's rear-end," but I think my teacher was secretly pleased that I followed the 5-7-5 syllable haiku rules.
What was your favourite subject at school?
English! Wait. Is that not the answer you were expecting? I've always read like a fiend, which has been VERY useful in science. Once you come up with an idea (and I get a lot of good ideas from books and movies) that you want to test, you must first do a careful literature review, which is essentially a background search. You use the internet and the library to find out if anyone else has tested this same idea in the same way and everything else you can about the subject before you move forward. Reading has really helped me with my reasoning skills, and allows me to explore places that I can't reach. It also fires my imagination, helps me see connections, and allows me to live a million different lives in far-off lands and times!
What's the best thing you've done as a scientist?
The best thing that I've done to date was participate in Rising Star Expedition. My favorite part was being able to live-Skype classrooms from the site to answer questions about the fossils we were digging up right as they came out of the ground! If Jane Goodall or someone had been able to do that kind of outreach while they were active in the field, I would have been SO all over that! I really hope that science in the future will allow non-scientists to participate in this way. That's why I support open science and citizen science, because they allow this amazing information about our world to be shared freely. If you'd like to see some of our adventures at Rising Star Cave, check out this link: http://voices.nationalgeographic.com/blog/rising-star-expedition/
What or who inspired you to become a scientist?
I never thought of myself as a scientist, maybe because I wasn't very good at math. I always admired explorers, and my favorite book to this day is "The Little Prince" by Antoine de Saint-Exupery. Anyone that is really curious about the world around them inspires me. My heroes are Janusz Korczak (http://korczak.com/Biography/kap-1who.htm), Mohandas Gandhi, and Nelson Mandela, who in their own ways gave hope and courage to thousands and millions.
If you weren't a scientist, what would you be?
Why choose?! I've been able to do lots of other fun things in amongst my sciencing: theatre, horseback riding, cave exploring, writing, dog training, camping, traveling, marathoning, motorcycling—I even tried out for roller derby!
If you had 3 wishes for yourself what would they be? - be honest!
A PONY! And being able to talk to animals. OH! And also to be able to eat as much candy as I liked with no consequences. That would be sweet.
Tell us a joke.
I lived near Austin, TX for a year and their motto is "Keep Austin Weird!" But I was a little TOO odd, so I had to stay just outside in Del Valle, TX (20 minutes away). I was like a reserve weird army of one. :-)
Other stuff
Work photos: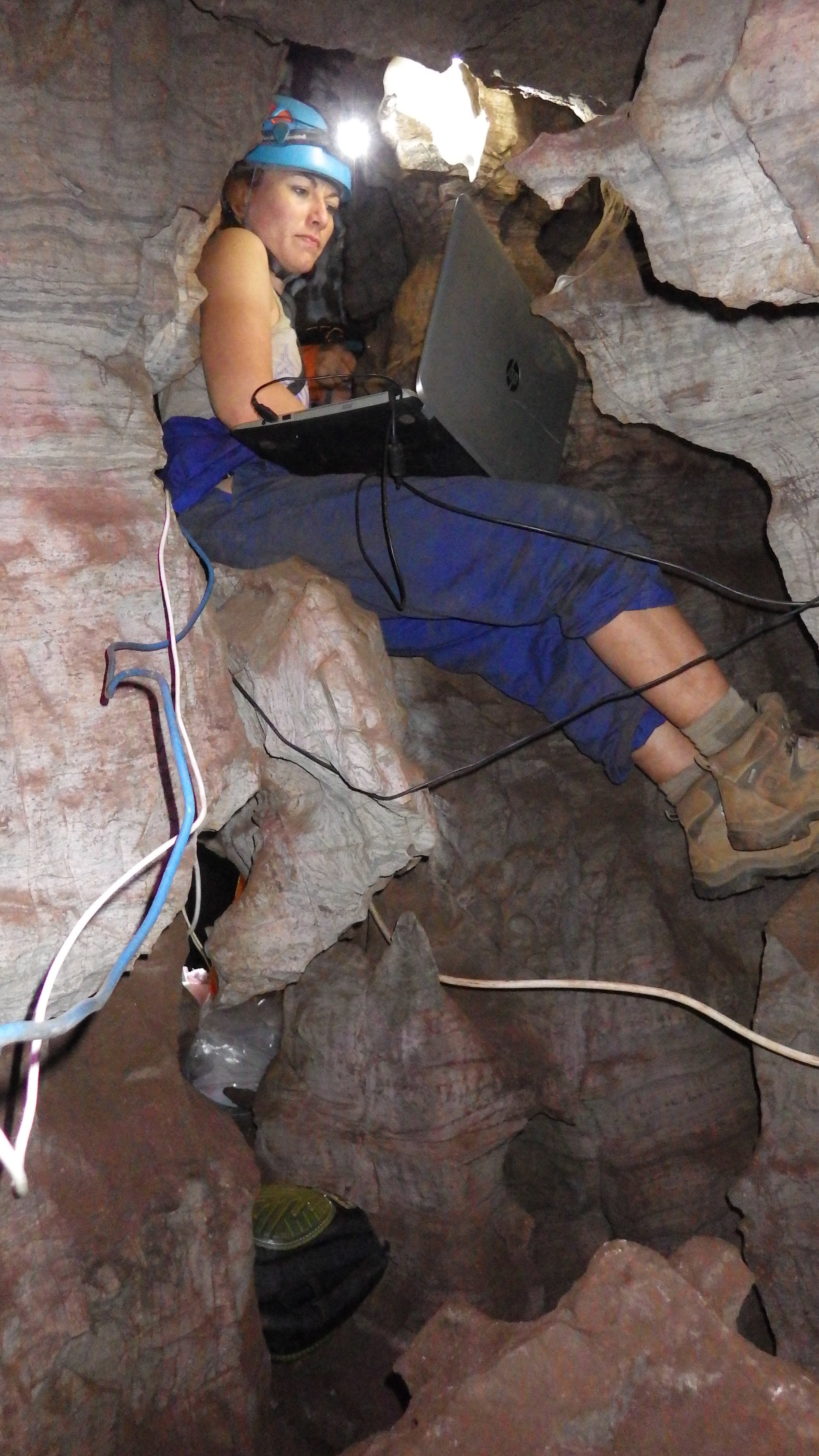 My office!  Me supervising 3D laser scanning of the Rising Star fossil chamber. (Photo by Elen Feurriegel)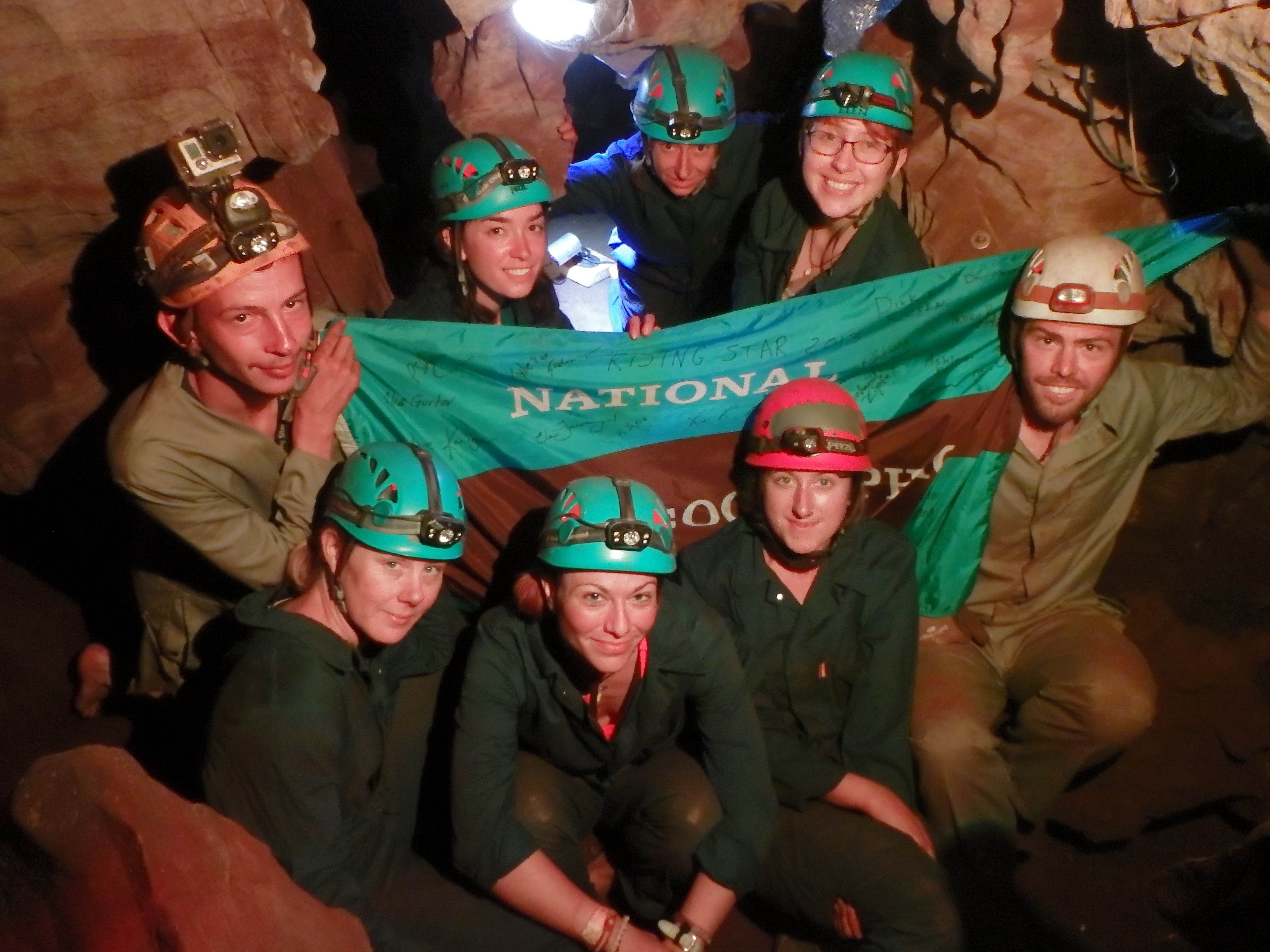 Being part of a National Geographic expedition was one of the coolest things I've ever done! (That's me in the blue helmet in the middle of the front row)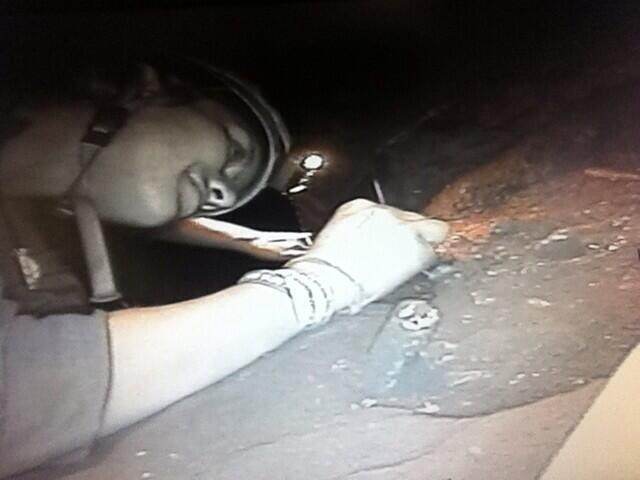 During Rising Star Expedition, our work excavating fossils was supervised via CCTV from cave to surface. It was just like being on "Big Brother"!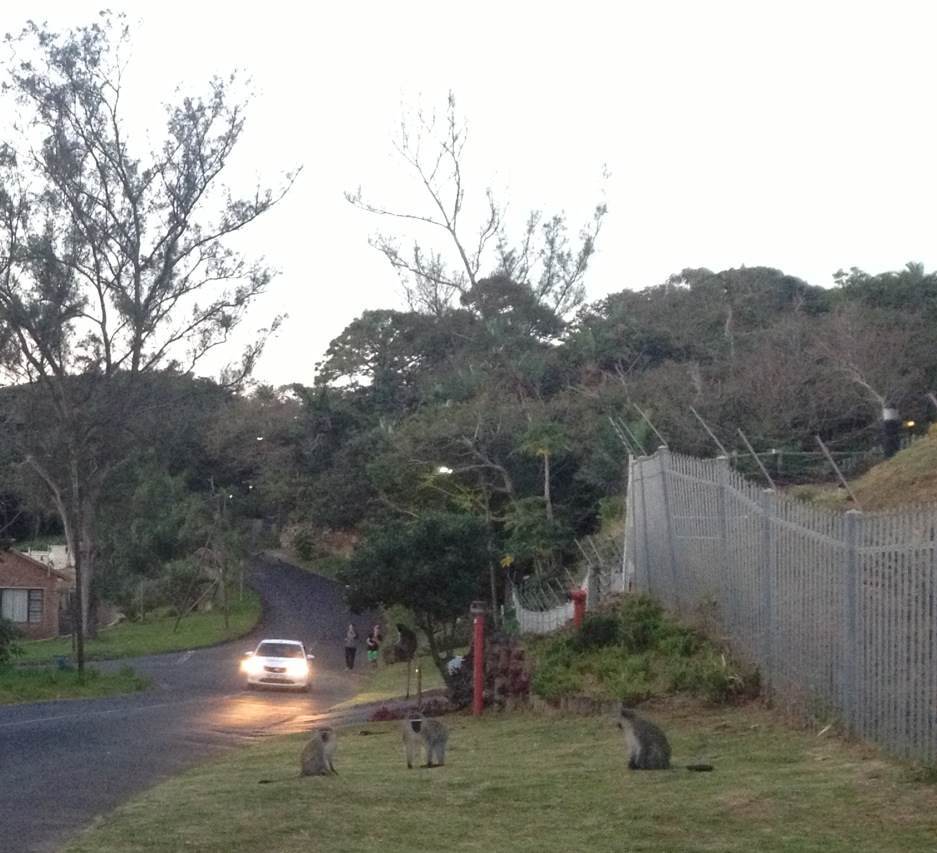 My current research with Sepela Field Programs focuses on human-wildlife conflict in South Africa.
My profile link:
https://hydrogenm15.imascientist.us/profile/lindsayhunter/

Print this profile